Tap into the new world of work.
CultureRoad™ is your go-to place to find like-minded professionals and active sharing of contemporary best practices in a quickly evolving world of work.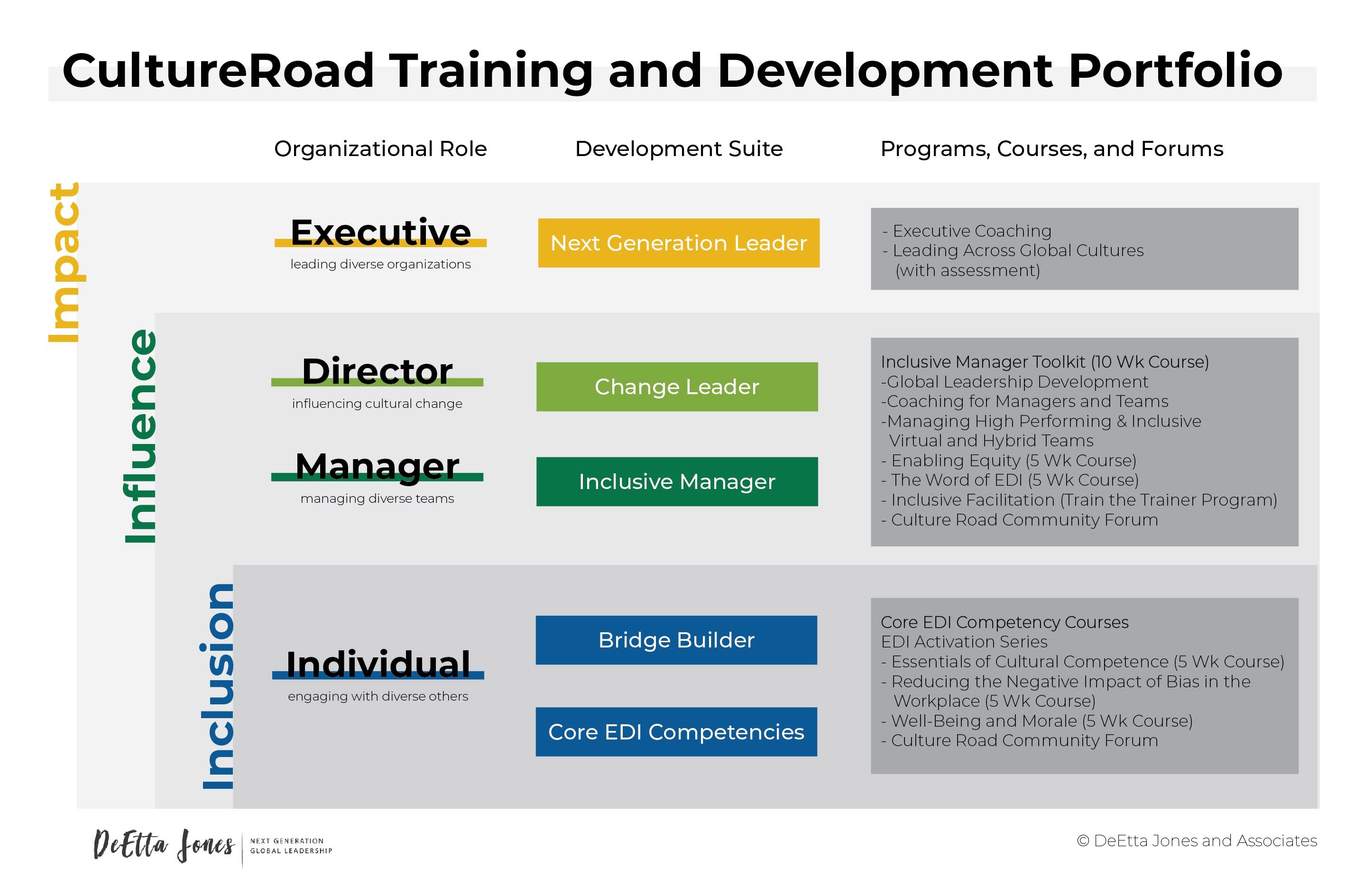 CultureRoad™ is the gathering place of next generation leaders who want to actively invest in the skills and practices needed in an evolving world of work, in one easy-to-use subscription.
What is Included in CultureRoad?
An all-access subscription to DJA content, tools and expert facilitators.
Equity, Diversity and Inclusion
With CultureRoad™, we view every topic and situation through an equity, diversity, and inclusion lens. Our aim is to broaden the scope of professionals at every level by equipping them with varying thought processes and perspectives that will help them to thrive in any setting or group. Leaders will be empowered to make changes that leverage current assets and yield breakthrough results.
Dive Deep and Take Your Proficiency to the Next Level
Equitable and inclusive organizations are intentionally designed and nurtured. A workforce begins with each team member's individual development journey. Our teachings, created from an equity, diversity and inclusion vantage point, seek to broaden perspectives, improve skills, challenge thought processes, and introduce concepts that will sharpen the individual, personally and professionally, and subsequently, enhance their contributions to the teams that they are a part of.
Inclusive Management Best Practices
Management principles are crafted by humans, for humans. As people change, so should our businesses, business practices and the way that we relate to one another.
CultureRoad™ is rooted in contemporary best practices based on our real-world experience working with leaders. This online learning platform offers the blueprint for distinguishing oneself, building effective teams and strategically navigating the toughest leadership challenges.

Learn together with experts and peers.
12
countries with ongoing relationships with DeEtta Jones & Associates
100K
alumni who have participated in our programs
4k
average daily participation in one of our virtual courses
9.7/10
average participants Likert scale rating for usefulness of content
Do you want to keep your knowledge on the topics of EDI, Leadership, Management, and Personal Development at the cutting edge?
Join our exclusive list below, to get a first look at some of the content that will be available to you within CultureRoad!
Hi, I'm DeEtta Jones, creator of CultureRoad™ and founder and CEO of DeEtta Jones & Associates, a management consulting and training firm. For more than 25 years, I've worked in sectors spanning from higher education to advertising with a central focus on human rights, EDI, management consulting and workplace transformation.
CultureRoad™ is designed to be a gathering place for next generation leaders to learn and share strategies for effectively leading organizations and teams in constantly changing environments, and where calls for justice — human rights, social and climate — are among the only foreseeable constants.
We are glad that you're here and look forward to being on this learning journey with you.
DeEtta Jones
Founder and CEO