This virtual program will equip you with the skills and confidence to excel in your current and future leadership roles in just 10 weeks.
Who Is The Inclusive Manager's ToolkitTM For?
The Inclusive Manager's Toolkit™ is for new managers, seasoned managers, senior executives and those who have leadership responsibility but no direct reports: all can benefit from this program. People who have benefited from our past courses include:
This 100% virtual program is focused on managerial effectiveness that fully integrates equity, diversity, and inclusion into its language, skills, and tools for immediate and long-term application. The cohort learning experience allows you to dive deep and solve your knottiest problems with other managers having similar challenges. The course includes:
| | |
| --- | --- |
| Live virtual coaching sessions with experts | 40 practical application tools and job aids |
| 38 guided videos | Access to a wide cohort of peers |
| Practical application/scenarios/case studies | A podcast for learning on the go |
| Active discussion boards and chat | 82-page participant workbook |
---
Upcoming 2024 Program Dates:
- April 1 - June 7, 2024
- September 9 - November 15, 2024
---
Participant Testimonial: The fact that this course offers so many tools has been amazing for me. A lot of leadership courses I've taken have stayed kind of theoretical and introduced a lot of concepts, but then when I've tried to implement them, I've felt lost. Having so many templates to use is making it much easier for me to employ the strategies I've learned about and I think it will help me be more successful as I work to seed these concepts and strategies in my workplace.
About The Inclusive Manager's Toolkit™
The Inclusive Manager's Toolkit™ is an online course for anyone in a formal or informal leadership or managerial role who wants to have inclusive and practical tools for maximizing workforce performance. Management principles are made by humans and for humans. As humans change, so do our businesses, our relationships, and our business practices. The Inclusive Manager's Toolkit is rooted in contemporary best practices based on our real-world experience working with leaders. The course provides a roadmap for distinguishing yourself, building your team, and effectively navigating your knottiest leadership challenges.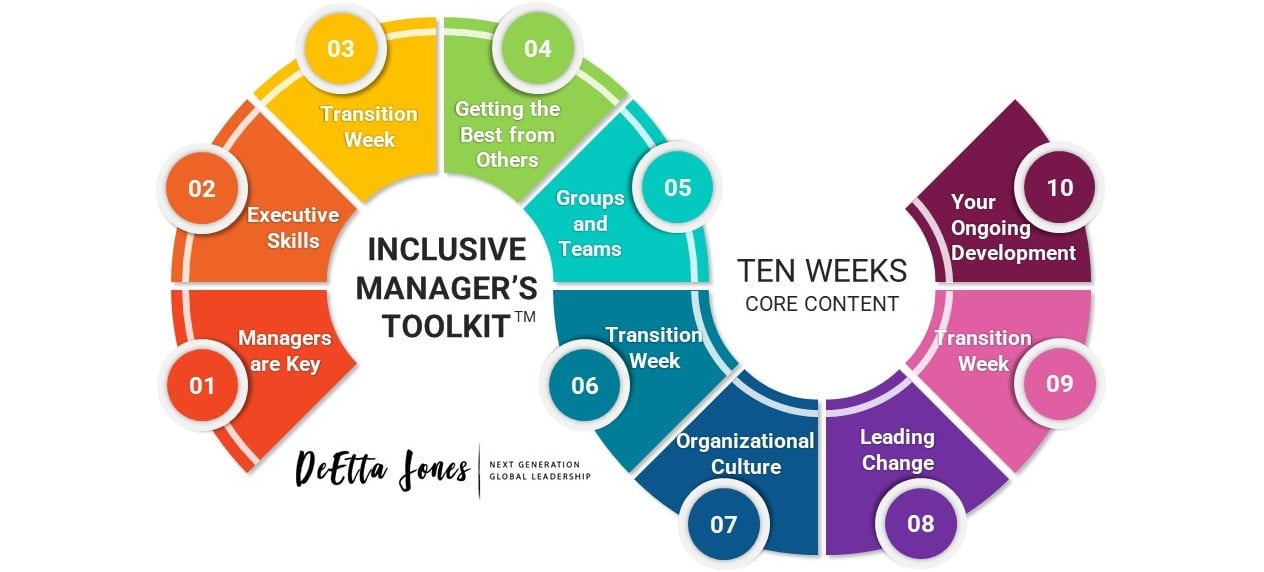 The Benefit Of Online Learning
This program is 100% virtual. This makes it easy for you to participate in ways that fit your busy schedule. After years of experience offering leadership and management training, we understand how difficult it can be to spend days or even weeks away from work to invest in professional development. All course materials will be easily accessible from your home or office. Materials include streaming videos, webinars, virtual office hours and chats with course faculty, text documents, case studies, scenarios, and downloadable practical application exercises.
Testimonials
"DeEtta Jones is simply extraordinary in her ability to touch all hearts and minds, encouraging new thoughts, ideas, and action! She inspires introspection, collaboration, patience, and activism all at once. The impact of her work is most often life-transforming, leaving participants more knowledgable and aware, as well as revitalized to make a difference. It's very rare when one person's work can have such profound meaning for a group of people, and DeEtta is that person!"
Barb Kistler, Principal:
Diversity Solutions Group, LLC
"DeEtta met with academic and administrative leaders across campus, and the consistent feedback I received was 'she made you look good.' She is professional, engaging, forward-thinking, and really has her finger on the pulse of the best and most effective practices in universities. She is a masterful facilitator of critical conversations."
Damon E. Jaggars, Vice Provost and Director of University Libraries:
The Ohio State University
Learn More about the Agenda Each Week
Want to learn more? We would love to connect!