We Meet You Where You Are
Do you want practical tools for driving inclusion that can be shared with your workforce?
Do you need expert facilitators from diverse backgrounds?
Do you want high levels of engagement and breakthrough thinking during workshops?
Do you have an EDI committee that feels stuck?
Are you ready to build and activate an equity, diversity, and inclusion strategy?
Our Approach
We are a leading force in shaping contemporary thinking and practice around integrated and sustainable approaches to leadership development, executive coaching, Equity, Diversity, and Inclusion (EDI), and organizational effectiveness. Too often, management and equity, diversity, and inclusion are viewed as separate bodies of work. This leads to siloed efforts, limited ability to impact change and a programmatic approach to EDI.
At DeEtta Jones & Associates, our strength is the way we bring an equity lens to "traditional management" models and practices. We believe that Equity, Diversity, and Inclusion are essential elements of management, and good managers are inclusive managers. Our approach incorporates, with the traditional strategy and consulting elements, acknowledgment that there are systems, structures, and legacy cultures that sometimes create barriers to inclusion and compete with our aspirations for the future. We shape understanding and integration of contemporary best practices in leadership and management, always in alignment with equity-based values and your overall strategy.
Guided by our philosophy of generosity, we work with clients to:
Enhance knowledge of contemporary best practices and implications for workplace performance
Equip leaders as champions and align EDI goals with business priorities and practices
Ensure change happens at cultural levels through systems interventions and integration
Invest in ongoing learning, discussion, and skills practice in context and with peers
What we do
Focus Groups
Focus groups are a great way to get stakeholder feedback from large groups of similar stakeholders. They can help you explore your employee, leadership, customer, and community experiences, and this information can (and should) inform and enable strategic decision-making.
Listening Sessions
During significant times of change, expertly facilitated listening sessions allow groups to share their perspectives and process change together. These sessions help collect information about employee experiences so that leaders and change agents can make informed decisions about next steps.
EDI Dimensions Individual AssessmentTM
DJA's EDI Dimensions Individual Assessment™ reflects our belief the work of EDI, like all other meaningful pursuits, requires a path. It provides a snapshot in time of an individual's current level of engagement in each of the core dimensions and associated capabilities, and guidance on the key skills needed and how to enhance EDI proficiency and impact across them. The EDI Dimensions Organizational Assessment™ provides organizations and their leaders with:
*A current snapshot of where your organization is on The EDI Journey™ gathered on key dimensions and capabilities.
*Specific areas of focus and actions to take to advance EDI goals.
*Over time, points of assessment to measure and communicate continuous improvement.
Learn more
EDI in Action Series
Are your ready to go from episodic to consistent investment in growing your organization's equity, diversity and inclusion knowledge and skills. Do you want curated conversations led by experts that encourage engagement about contemporary EDI issues, how they impact your organization, and that lay a foundation for personal and organizational action.
Learn More
Group Coaching
Our coaches work with clients ranging in role and level of responsibility, including: Executives, Senior Leaders, Directors and Mid-Level Managers, HR and Diversity Leaders, Functional Specialists, and High Potential Employees. Our most requested areas of focus include managing a diverse team, overcoming imposter system and harnessing your unique voice, increasing awareness of individual style and impact, and enhancing interpersonal impact and effectiveness.
Learn More


EDI Strategy Creation
EDI Strategy Activation
Library Strategic Planning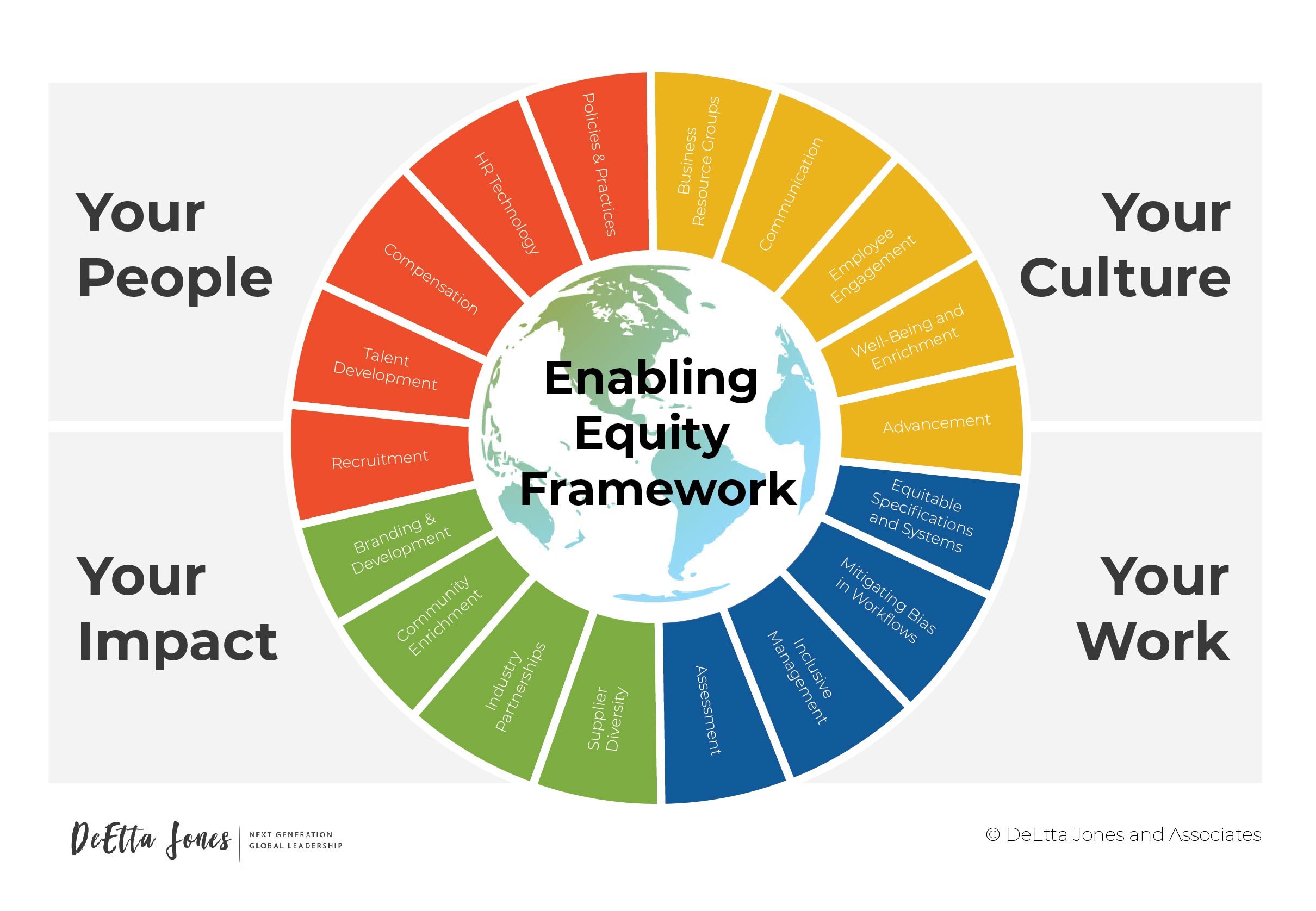 Why Enabling Equity?
Diversity can be represented, but Equity can be embedded.
Enabling equity means centering and working towards equity in all aspects of our work. This reconceptualization of what it means to "do diversity" is at the heart of how we think about EDI strategy. Equity can be embedded in internal culture-building aspects of our work like talent development and employee engagement, but it can (and should) also be embedded in how we do our work in finance, strategy, program planning, or design, and in how we think about our work's impact on the world. This systems-level approach shifts EDI from being pushed by small groups to being actively pulled into and across everyone's day-to-day work. Centering equity is essential for transformation.
Let us know what you need
Let us know if you are interested in our consulting services and we will set up a time to connect!