DJA's EDI Journey™
At DeEtta Jones and Associates, we believe the focus on equity, diversity, and inclusion must shift from sole emphasis on what is broken or lacking, to identification and pursuit of a desired, shared, and equitable future. People, individually and as leaders of organizations are inclined to work hard to pursue a meaningful tomorrow in which they can envision themselves thriving. To bring the characteristics of an equity-rich future into focus for practical use we designed a path, The EDI Journey™. The EDI Journey™ is based on rigorous research covering the literature from interculturalism and power dynamics to efficacy and change management.
The EDI Journey™ describes 5 stages through which individuals and organizations progress on the path to full EDI transformation. Results are displayed on a circumplex, based on the assumption that the path to EDI transformation is not purely linear and sequential. Instead, the pursuit of goals in all 5 stages may require ongoing investment, with progress able to be regularly measured and communicated.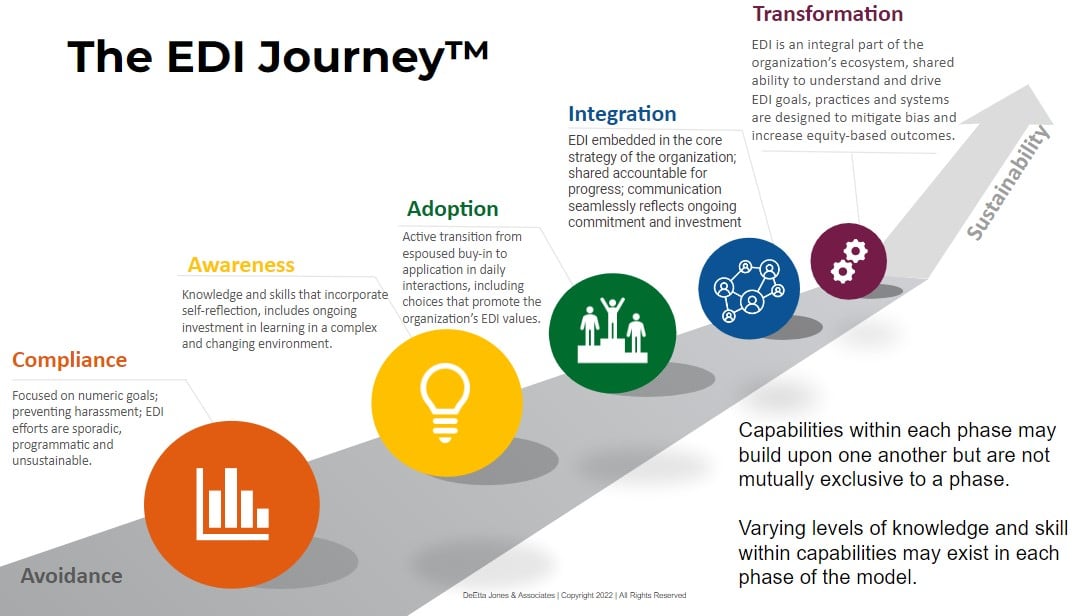 The EDI Journey™ is the basis for our individual and organizational assessments the EDI Dimensions Individual Assessment™ and EDI Dimensions Organizational Assessment™.
EDI Dimensions Individual Assessment™
DJA's EDI Dimensions Individual Assessment™ reflects our belief the work of EDI, like all other meaningful pursuits, requires a path. It provides a snapshot in time of an individual's current level of engagement in each of the core dimensions and associated capabilities, and guidance on the key skills needed and how to enhance EDI proficiency and impact across them.
EDI Dimensions Organizational Assessment™
Change management requires a picture of desirable performance that can be shared organization-wide and that includes milestones for measurement and ongoing communication. The EDI Dimensions Organizational Assessment™ uniquely takes a comprehensive and contemporary best practice approach, measuring internal and foundational elements based in compliance and organizational culture, and expanding to systems that inform your core work and most impact equity.
The EDI Dimensions Organizational Assessment™ provides organizations and their leaders with:
A current snapshot of where your organization is on The EDI Journey™ gathered on key dimensions and capabilities.
Specific areas of focus and actions to take to advance EDI goals.
Over time, points of assessment to measure and communicate continuous improvement.


Are you interested in learning more about using our assessments in your organization?