DJA Enabling Equity Framework™
The DJA Enabling Equity Framework™ is our unique approach to EDI strategy and activation. It reflects our belief that EDI must push far beyond the typical inward-facing or program-intensive efforts of the past. Enabling Equity is comprehensive, actionable at local and global levels, and positions business leaders as equipped, engaged, and accountable.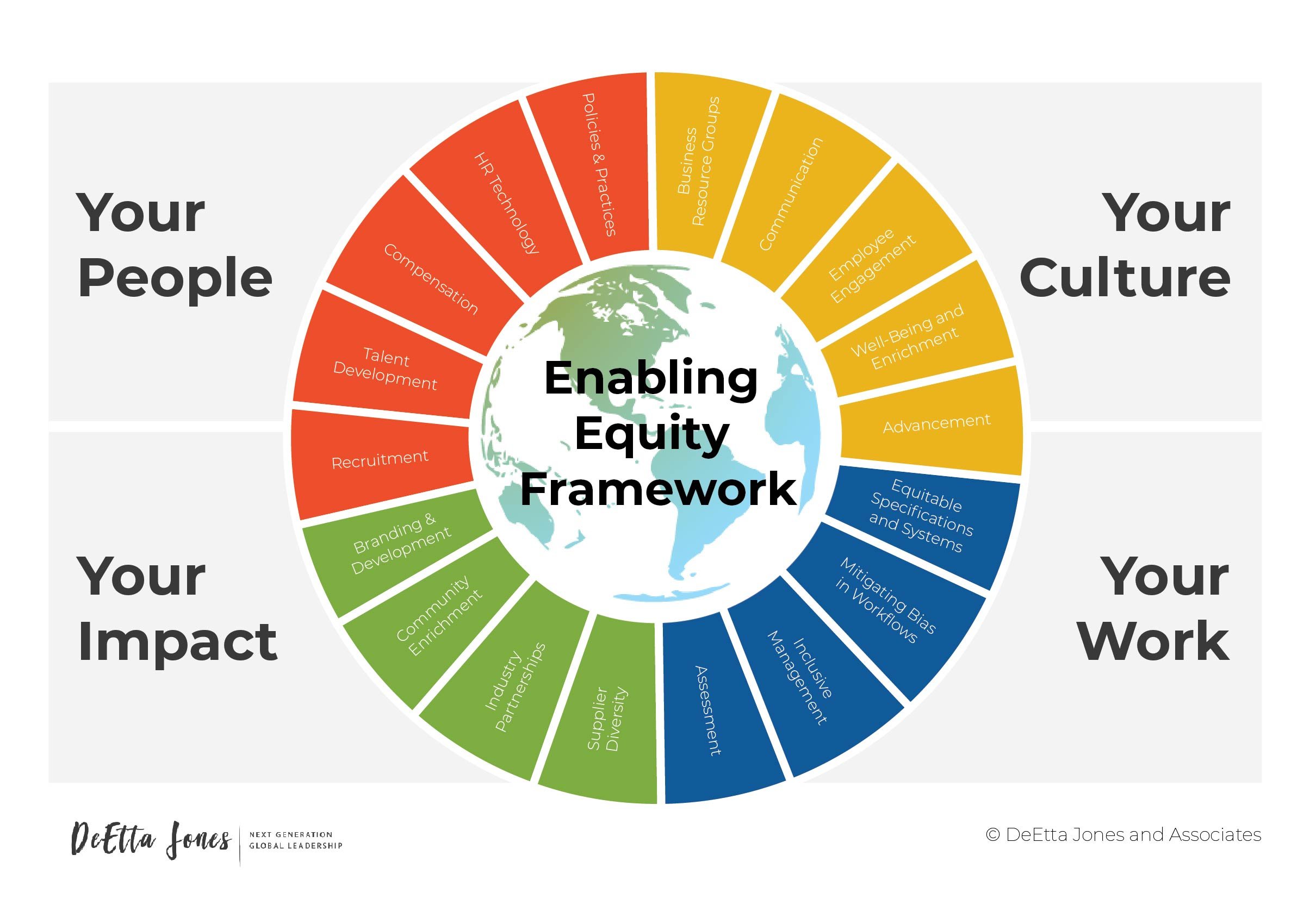 Learn about our EDI Strategy Process
DeEtta Jones & Associates offers organizations a signature EDI Strategy & Activation process. Our four-phase approach builds upon a deep dive analysis into your current reality to recommend a future-driven set of priorities that account for your organization's unique culture and setting.
Phase 1: Review and understand the existing mission, vision, values, key stakeholders, and program activities.
Phase 2: Conduct a series of Interviews and group meetings with targeted stakeholders to understand and document the current state, as well as a custom session designed to visualize the path forward, the desired outcomes and impacts, and the desired future state of the organization.
Phase 3: Design, deliver, and socialize a custom EDI strategy. This includes gathering feedback, identifying gaps and opportunities, and refining accordingly.
Phase 4: Design and deliver custom practical application tools and job aids to enlist stakeholder buy-in and jump-start activation of the plan
We want to Partner with You!
We want to enable you to make changes that leverage your current assets, are consistent with the aspects of your culture that are most prized, and make choices about where, how, and when to implement changes that are going to yield breakthrough results for you. Our work with clients includes understanding social and organizational structures, identification of the desired future state, and active pursuit of alternatives that reflect shared values. We bring process expertise to ensure that strategy and consulting efforts are implemented for maximum effectiveness. Our emphasis is on the "how" of any process--from strategic planning to change management.
At DeEtta Jones & Associates, our strength is that we bring an equity lens to "traditional management" models and practices. Our approach incorporates, with the traditional strategy and consulting elements, acknowledgment that there are systems, structures, and legacy cultures that sometimes create barriers to inclusion and compete with our aspirations for the future.
Are you interested in learning more about creating or activating an EDI strategy in your organization?